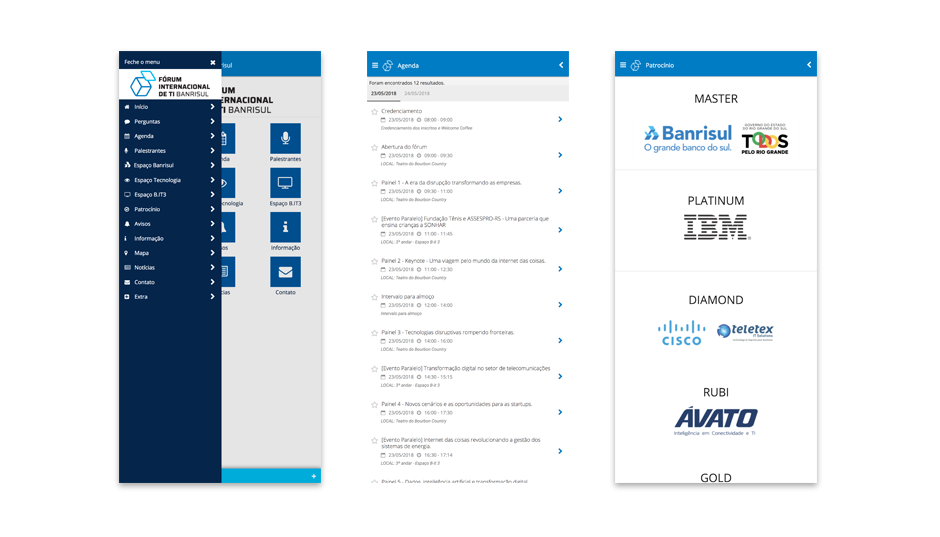 App para eventos realizado para o Banrisul, nessa ocasião para o 11º Fórum Internacional de TI Banrisul, que aconteceu na cidade de Porto Alegre/RS, que este ano abordou a temática: "A Era da informação disruptiva".
O evento durou dois dias e contou com mais de 600 participantes, que utilizaram o aplicativo numa média 5,8 vezes ao longo do acontecimento.
Os organizadores aproveitaram as funcionalidades que Eventool oferece, como por exemplo: Localização, Agenda, Palestrantes, Avisos, Notícias, Avaliações, etc. O foco do aplicativo era fomentar a interação dos participantes através dos murais de perguntas em tempo real, dar visibilidade aos espaços que oferecia o evento e receber avaliação dos participantes sobre a qualidade das palestras.
O app do 11º Fórum Internacional de TI Banrisul foi publicado nas lojas de aplicativos de forma individual, remarcando a presença da marca e o nome do evento tanto nas lojas, como nos dispositivos dos participantes. Saiba mais sobre este evento no link www.ForumTIBanrisul.com.br
Fórum Internacional de TI Banrisul
Download the app in different stores like App Store or Google Play
Check its design quality and technology!