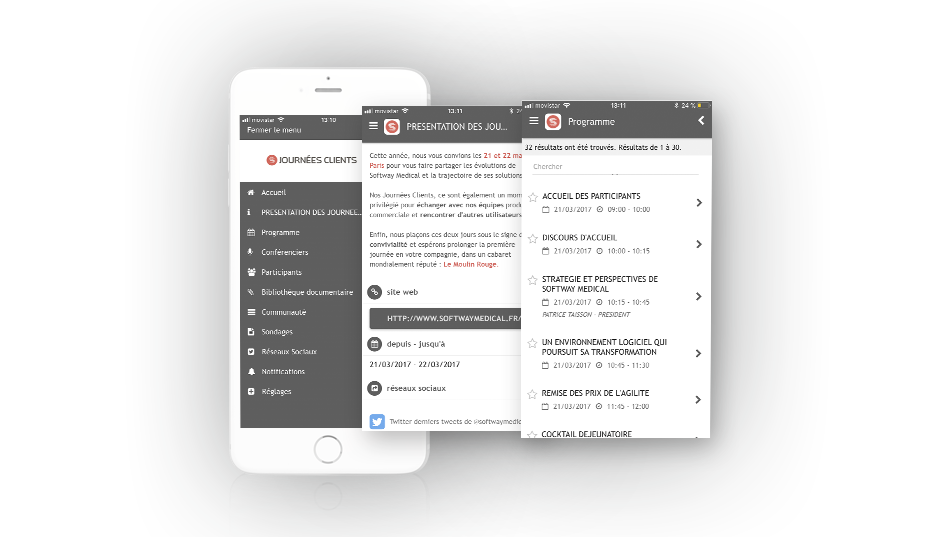 Softway Medical, une entreprise du secteur de la santé, a choisi la plateforme Eventool pour la création d'une application pour ses journées clients 2017.
Il s'agit de journées importantes, durant lesquelles Softway Medical prétend informer ses clients à propos des nouveautés grâce à des conférences et ateliers répartis sur 2 jours.
Grâce au module de Programme et celui des conférenciers, leurs clients ont eu facilement accès à toutes les informations nécessaires pour se diriger vers les activités organisées, telles que les horaires, emplacements et participants à chacune des activités.
Un élément important pour ces journées était de pouvoir recevoir un feedback de la part des clients concernant l'entreprise et ses produits/services. Cela a été possible grâce à plusieurs modules, dont : Murs de conversation, sondages et réseaux sociaux.
De plus, les participants ont pu discuter entre eux via l'app, grâce au module de chat.
JOURNÉES CLIENTS 2017
Download the app in different stores like App Store or Google Play
Check its design quality and technology!