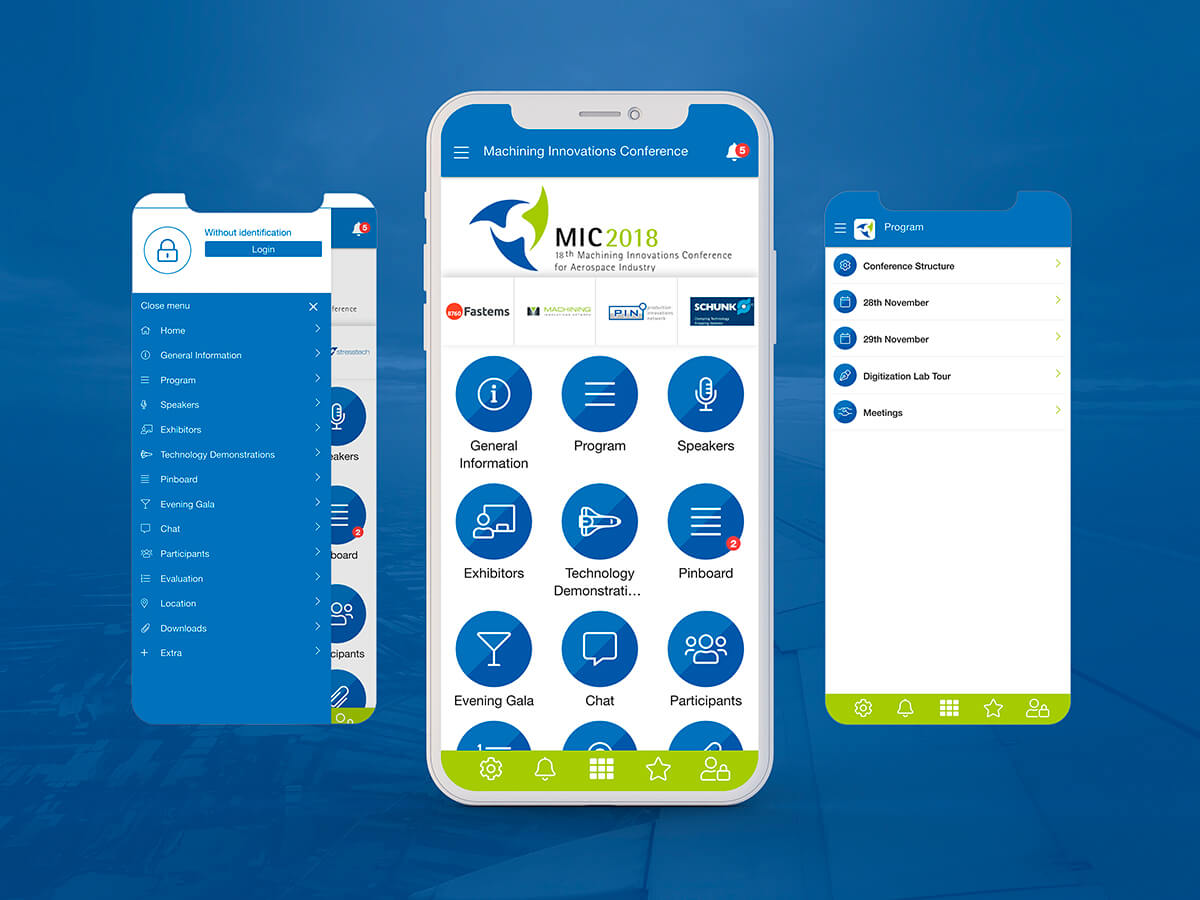 Das IFW der Leibniz Universität organisiert seit 18 Jahren die "Machining Innovations Conference" und hat sich entschieden eine App von Eventool für die diesjährige Veranstaltung einzusetzen. Wir haben eine individuelle App konfiguriert die unter dem Logo und Namen der Veranstaltung in den virtuellen Läden publiziert wurde.
Die App wurde in Englisch konfiguriert und sowohl die native App als auch die Web-App wurden von den knapp 200 Teilnehmern der Konferenz oft genutzt.
Ein wichtiges visuelles Element der App war das Karussell der Sponsoren – ein gute Lösung um die Sponsoren eines Events zu präsentieren. Der Benutzer kann so auch die Information zu jedem Sponsor direkt aufrufen.
Nebst Standard-Modulen wie der allgemeinen Information zur Veranstaltung, Programm, Referenten, Ausstellern, Push-Nachrichten, Dokumenten und dem Standort wurde auch ein Modul mit einer freien Seite eingefügt um eine Übersicht einzufügen.
Der Chat, die Pinnwand und eine Umfrage ermöglichten den Teilnehmern miteinander zu kommunizieren, dem Veranstalter Fragen zu stellen und ihre Meinung zu äußern.
Wenn Sie für Ihre Veranstaltung ebenfalls eine App einsetzen möchten, dann kontaktieren Sie uns bitte. Aus unserer Webseite können Sie außerdem Ihre Testversion erfassen und so alle Funktionen und Designmöglichkeiten der App ausprobieren.
Machining Innovations Conference
Download the app in different stores like App Store or Google Play
Check its design quality and technology!